Our 67 Minutes on Mandela Day – The Soup and Sarmie Drive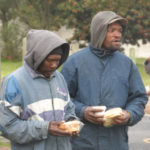 Each year, South Africans are asked to give 67 minutes of their time in service of others on Mandela Day. This year the CSR Team decided to focus on the homeless in the community to "help make the Cape a place where no one has to be hungry".
Using donations from Edge staff, the CSR Team and staff volunteers were able to make and distribute more than 200 warm and nutritious meals of soup and sandwiches to homeless people in the area.
We were overwhelmed with smiles of gratitude as our combined 67 minutes made a difference to the many hungry and destitute along our route. Edge Capital strongly supports the Mandela Day initiative and we continue to do what we can to inspire positive change in our community.
Sharing the Winter Warmth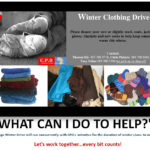 In 2013 Edge Capital launched the "Winter Drive" with a view to it becoming an annual initiative. The simple objective is to alleviate the plight of the communities most in need through the collection of blankets and warm clothing.
This year, the 2014 Winter Drive partnered with the NPO, Community Project Organisation (CPO). CPO focuses on providing lasting positive change and teachings that help communities both materially and spiritually. CPO's Winter Soup Drive takes place on a weekly basis with the purpose of serving the homeless people in and around the Bellville area.
We are well into winter and our donations have already warmed up the hands, feet and hearts of many underprivileged. It also reminds us all, that to serve is the best gift that anyone can give to all of mankind.
If you would like to assist Community Project Organisation by donating winter warmers, email communityprojectorg@gmail.com or call 083 682 0666 / 073 700 9776