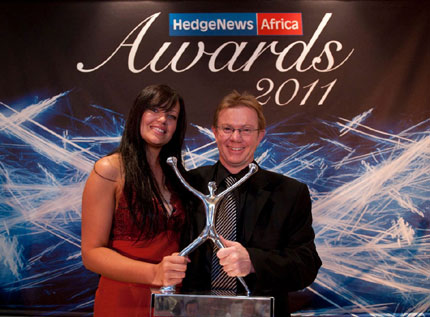 Edge Capital was the proud recipient of the award for Best Fund of Funds at the HedgeNews Africa Awards 2011. The winning fund was the Edge Iconic Torero Aggressive Equity Fund with a 16.6% return for the year and a Sharpe Ratio of 2.95.
The winners were announced at a gala dinner hosted on Thursday, the 23rd of February 2012 at the Vineyard Hotel in Newlands, Cape Town and attended by the industry's preeminent hedge fund managers and investors.
The following Edge Capital Funds were also nominated for an award:
Best Fund of Funds category:
Iconic Matador Fund I
Iconic Matador Fund II
Iconic Picador Aggressive Fixed Income Fund
Long-Term Performance: Fund of Funds category:
Iconic Matador Fund I
Iconic Multi-Strategy Fund
The annual awards are based on monthly data compiled by HedgeNews Africa, the leading independent publisher in the region focused on the hedge fund and alternative asset management industries, and headed up by Gwyneth Roberts. The data is independently examined by eComply to ensure accuracy is used in deciding the winners. The awards recognise the best risk-adjusted returns of alternative investment funds in South Africa and the broader Africa region.
Lynn Miller and Pieter Viljoen accepted the award on behalf of the investment team.